PALATIAL
DISCREET BUT POWERFUL

Out of sight but by no means out of mind. Integrated in-wall speakers with full-bodied sounds.
Palatial
Palatial are passive in-wall speakers made for active listening. For room-filling music experiences and invisible home theatre set-ups where sounds are heard, not seen.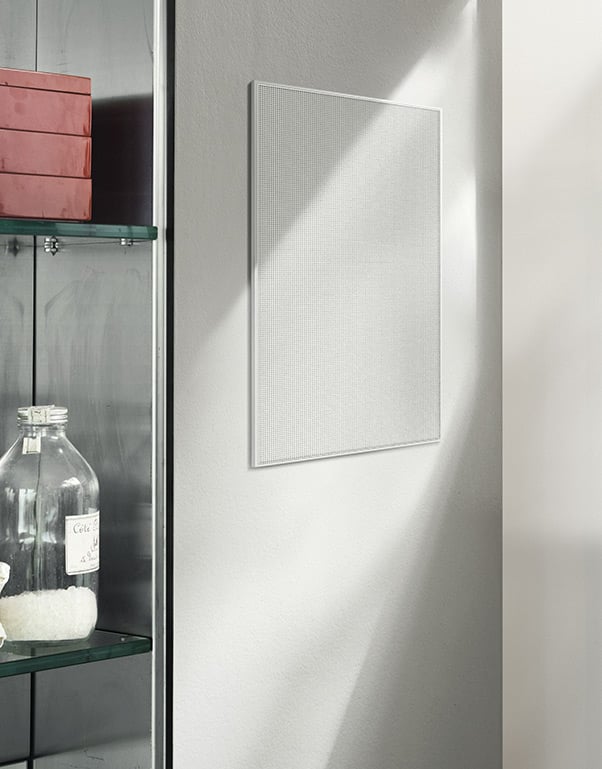 The sound pattern of Palatial in-wall speakers is exceptionally wide and this gives you exceptional placement flexibility. Coupled with an adjustable and highly accurate sound dispersion, audio can be directed to just about any listening area regardless of the speakers' position.
Palatial speakers come in two different variants with 2 x 6.5" woofers and 4 x 6.5" woofers for those looking for an extra powerful experience.
Once installed, the only visible part of the Palatial in-wall speakers is the sleek and solid aluminium speaker grille, designed and manufactured at the Bang & Olufsen aluminium factory in Struer, Denmark.
The polished surface subtly reflects its surroundings, making the grille a luxurious but unobtrusive part of the wall.
nstallation
Easy to install
The mounting system ensures easy installation while providing the perfect conditions for optimal sound reproduction – regardless of the construction materials in place. All of the grilles attach perfectly with magnets directly on the speakers. 
Bang & Olufsen

× Origin Acoustics
Bang & Olufsen
× Origin
Acoustics
Celestial in-ceiling speakers and Palatial in-wall speakers are developed in a powerful partnership between Bang & Olufsen and Origin Acoustics.
Founded by the original inventors of the in-wall/in-ceiling speaker concept more than 40 years ago, Origin Acoustics is a perfect match to Bang & Olufsen's proud tradition of audio engineering and aesthetics.
2-way system

Dual-woofer driver gives better bass

EQ Adjustments

X-WaveTM Woofer Surround

Progressive Suspension

Compression Molded Woofer Baskets

Spring-lockTM 2.0 tool less installation

Magnetic Grille
True 3-way system

Quad woofer driver gives deep and

power full bass

EQ Adjustments

X-WaveTM Woofer Surround

Progressive Suspension

Compression Molded Woofer

Spring-lockTM 2.0 tool less installation

Magnetic Grille
For more information see Product sheet