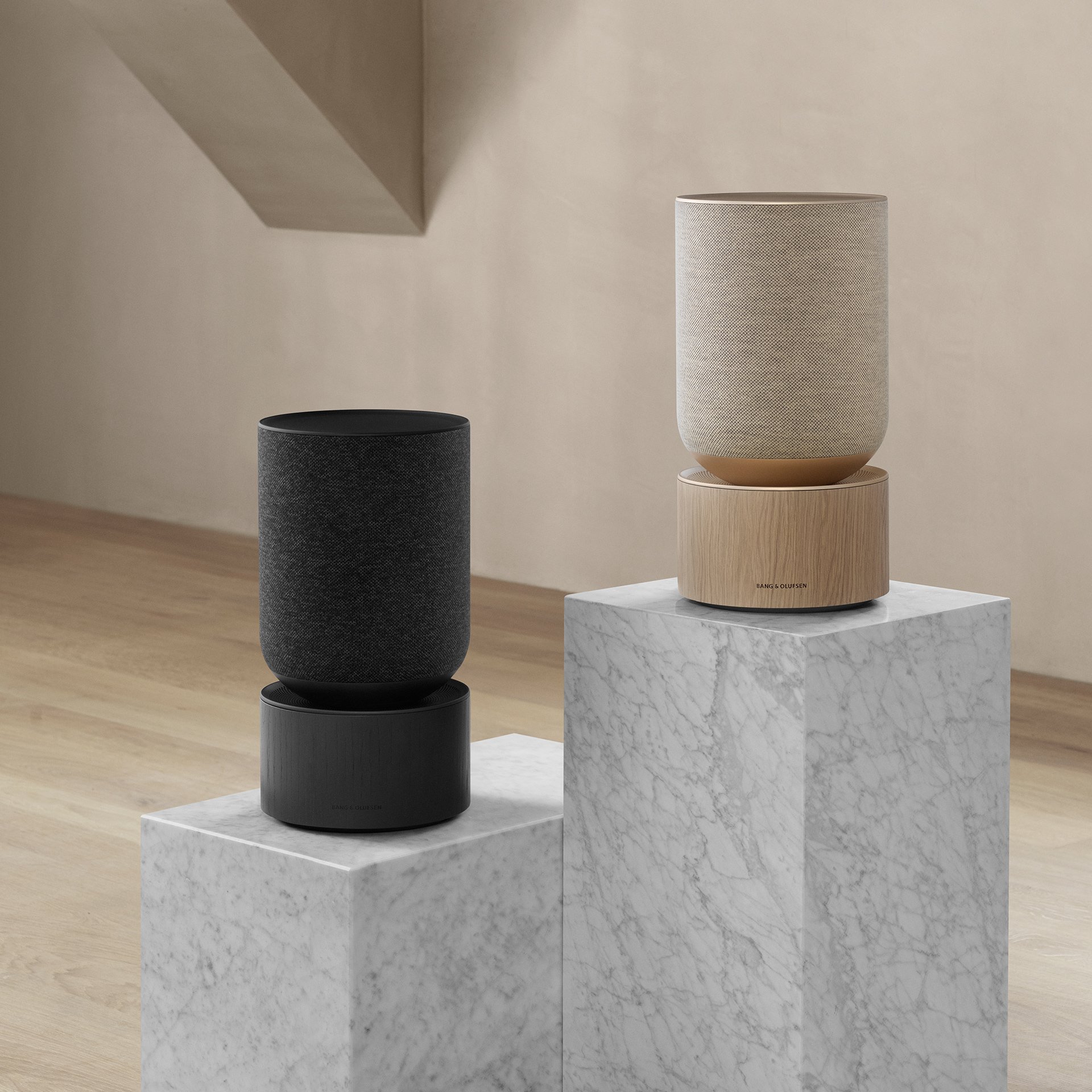 The design
Scandinavian minimalism
–
An interior silhouette balancing gracefully on a base of natural wood. The simplicity of this design, rooted in Scandinavian minimalism, contrasts strongly with its raw, high-performing sound. And with a shape distinctly broken into two components, Beosound Balance is luxurious design in an interior object form. We collaborated on the design with Benjamin Hubert of Layer Design, a creative studio from London highly specialised not only in design but also in creating unique user interfaces.
Optimal placement
MAXIMISE THE SOUND PERFORMANCE
–
Designed to be positioned up against the wall on a shelf or side table, Beosound Balance delivers carefully controlled beams of sound for a clear acoustic experience from the front and rich sound enhancement at the back. The result is an impressively big acoustic experience compared to its size.
Welcomes you with a human touch
BEAUTIFUL DESIGN THAT INTERACTS WITH YOU
–
Tactile user-interaction experience and light-through-aluminium for subtle look and a touch of magic with proximity sensors built-in to welcome you when you approach Beosound Balance for interaction – so the controls only appear when needed. When you walk away from Besound Balance, the controls dim once more leaving only the well-crafted aluminium surface visible.
Get more done with just your voice
–
Beosound Balance with the Google Assistant. You can easily enjoy music at home just with your voice; you can play your favourite music, control volume and find information about the song that you are listening to, hands-free. You can also plan your day, set alarms and control smart devices around your home – just by using your voice.
Moreover, Beosound Balance has four favourite buttons, where you can save your favourite Google preset and listening experiences for easy access.
*The Google Assistant is available only in specific countries and languages. *Google is a trademark of Google LLC
Craftmanship
Elegant finishing
–
A unique combination of luxurious materials crafted to create an iconic look and a premium sound performance — a precision-crafted aluminium grill with a Fibonacci pattern for acoustic transparency and a solid oak wood base for a sculptural feel.
"Dynamic acoustic performance, designed to be display friendly and inspired by interior objects and the use of soft, appealing and well-curated materials, colours and finishes."