Beolab 50
BLACK IN BALANCE
Craftsmanship and colour in striking balance. Introducing Beolab 50 loudspeaker in new Piano Black with an exceptionally crafted aluminium front. Together, performance and design create a unique and beautiful home sound experience.
BeoLab 50
Continuing our endeavours to create the future of sound, the new BeoLab 50 delivers truly exceptional performance with innovative sound controls and a uniquely unfolding design. A high-end active loudspeaker with a modest footprint that feels at home in any interior.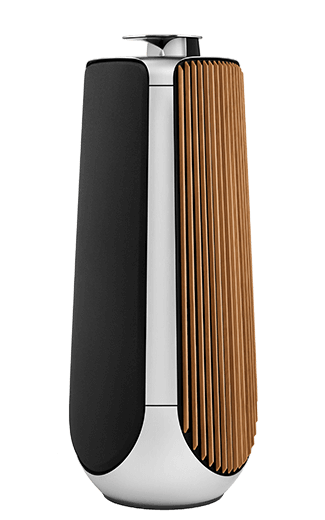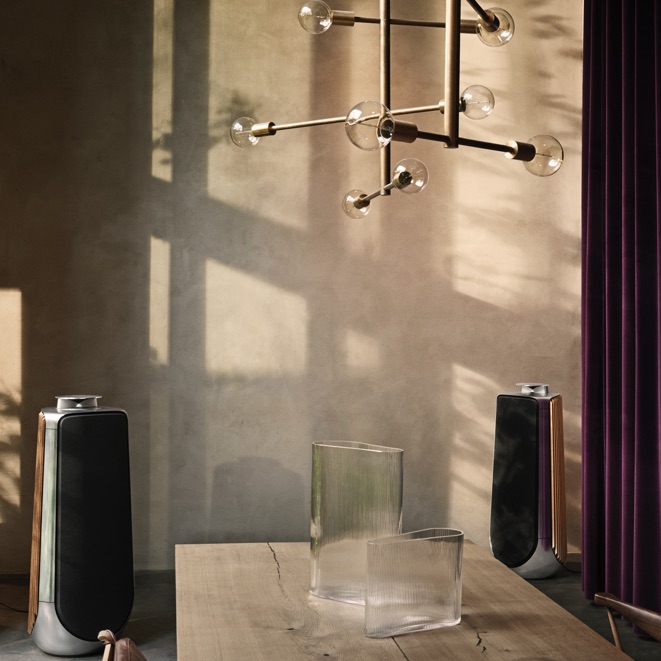 Exceptionally crafted
Seen from a distance, the elegant and exceptionally crafted new aluminium front with minute aluminium dots seems to float in mid-air to create a visually deeper and more layered appearance.
A graceful performer
With its slender, tall silhouette and rounded base, BeoLab 50 stands proud without being obtrusive. The aluminium surfaces and warm oak lamellas are inherently Bang & Olufsen in a refined and visionary design.
From the moment the Acoustic Lens majestically ascents, gracefully opening up to face the audience, you know the stage is set for an extraordinary performance.
BeoLab 50 has a light expression with a modest height of 103.6 cm and measuring just 45.5 cm at its widest. This is a floor standing loudspeaker that fits in anywhere.
The crown prince of sound
BeoLab 50 shares several technology patents and features from the radical BeoLab 90. Once again our audio engineers have created a loudspeaker that performs beyond reference in every listening scenario.
With the adjustable acoustic lens, BeoLab 50 can alter its sound delivery tailored to the position of the audience. For classic sweet spot listening, the moving cheeks of the acoustic lens will contract and send a direct and narrow sound beam towards your preferred listening spot. With a house full of party guests or a crowd gathered in front of the TV, the chins slide open for a room-filling sound performance.
Using an external microphone, connected to the loudspeaker, Active Room Compensation technology measures the acoustical behaviour of your room and creates a set of custom filters that compensate for reflections from walls and furniture in different listening areas. The result: Superior performance, tailored to all the ways you enjoy music and sound experiences.
Making a flagship speaker like BeoLab 50 is an uncompromising affair. A meticulous process that mirrors more than nine decades of relentless commitment to craftsmanship and innovation.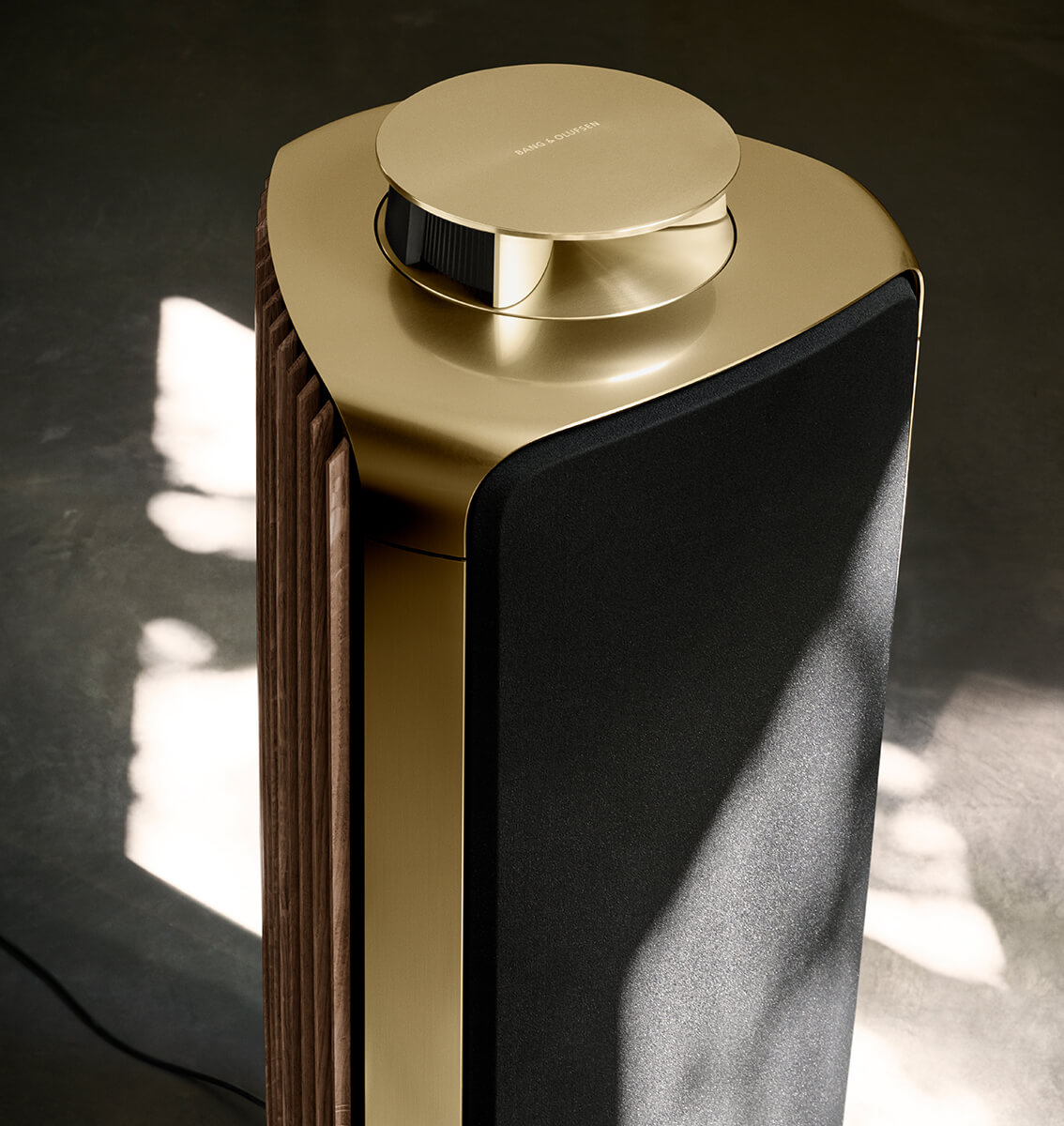 Seamless control
What good is power without the ability to control it exactly your way? Despite its many advanced features, everyone gets everything from BeoLab 50 with just a single touch.
BeoLab 50 offers seamless control options tailored to the ways you interact with technology in your home. It integrates completely with your BeoVision TV using the BeoRemote One. You can also use the Bang & Olufsen app on your phone or tablet to quickly set up and access saved presets, adjust settings and create new favourites.
With the 7 dedicated built-in amplifiers, there is no need for a separate amplifier or the clutter of audio cables. Just plug it into a power socket and BeoLab 50 is ready to perform.
BeoSound Core is a small but powerful connectivity hub that turns your BeoLab speakers into a future-proof wireless speaker system with Multiroom capabilities and lossless high-res audio streaming.
BeoLab 50 is designed to work seamlessly with our BeoVision TVs delivering fully integrated functionality both wired and wirelessly. Paired with our latest 4K OLED TV, BeoVision Eclipse, your movie night never sounded better!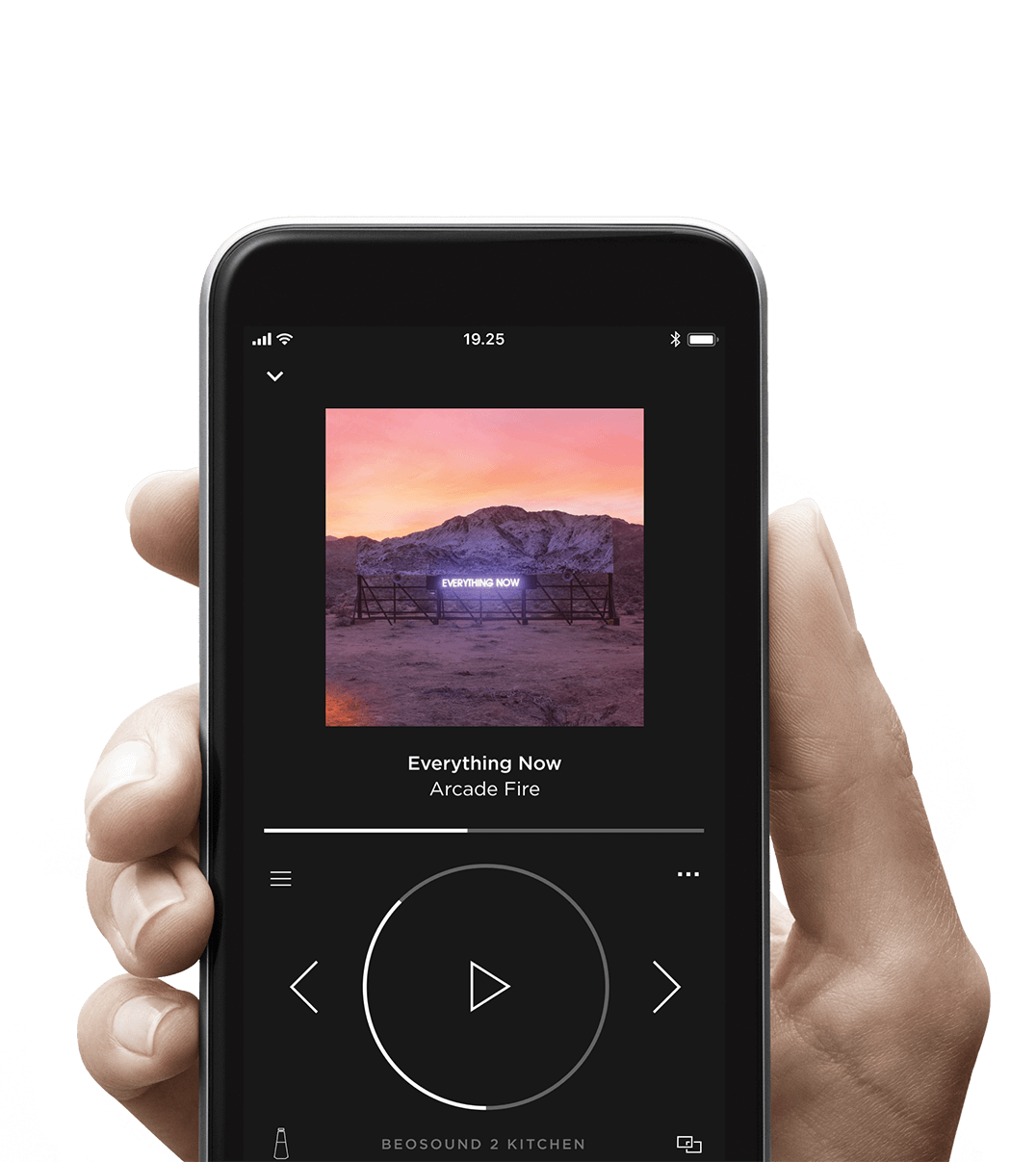 MAKE YOUR SPEAKERS CONNECTED
By adding BeoSound Core to your speaker setup you can create a future-proof wireless speaker system and enjoy music streaming directly from your mobile device.
This discrete hide-away connectivity hub enables your speakers with Multiroom capabilities and a solid range of wireless streaming options, such as Chromecast built-in, Apple AirPlay and Bluetooth, whilst rendering your music in lossless high-res quality.
Effective frequency range
15 – 43,000 Hz
Wireless Input (Primary and Secondary speaker)
Wireless Power Link (24 bit / 48 kHz)
WiSA (24 bit / 96 kHz)
Digital Input (Primary and Secondary speaker)
Digital Power Link (24 bit / 192 kHz)
Analogue Input (Primary speaker)
Power Link RCA
Digital Input (Primary speaker)
USB Audio (24 bit / 192 kHz)
S/P-DIF (24 bit / 192 kHz)
Optical (24 bit / 96 kHz)
Amplifiers
For tweeter
1 x Bang & Olufsen ICEpower 300 watts
For midranges
3 x Bang & Olufsen ICEpower 300 watts
For woofers
3 x Bang & Olufsen ICEpower 300 watt
Speaker Drivers
Tweeter
1 x 3/4-inch – double motion Acoustic Lens TechnologyMidrange
3 x 4-inchWoofer
3 x 10-inch
Digital Signal Processor
DSP type
1 x Analog Devices ADSP-21489 – 400 MHzSampling rate
192 kHz fixed
Beolab 50

From

$40,000

In essence

Loudspeaker blending radical audio technology with graceful aesthetics and meticulous craftsmanship.

Unprecedented power and acoustic performance adapting to your living space and listening modes.

An iconic pillar of luxury sound crafted from carefully selected materials.

Advanced Sound Features

Acoustic Lens Technology (ALT) Advanced Active Room Compensation Adaptive Bass Linearization Beam Width Control Thermal Protection

Active Room Compensation Adaptive Bass Linearization Beam Width Control
Beam Direction Control (5 sides) Thermal Protection

Acoustic Lens Technology Adaptive Bass Linearization Acoustic Placement Settings Thermal Protection

Maximum Loudness @1m (SPL)
Bass Capability
Dimensions

45.5 W x 108.8 H x 28.5 D cm

73.5 W x 125.3 H x 74.7 D cm