Front Row Sound
The architectural speakers by Sonance for focused listening.
Enjoy bold sound for TV, music, and more with Sonos In-Wall by Sonance. Power these wired speakers with Amp for the full Sonos experience, including custom Trueplay™ tuning.
Sound customised to your home
Amp unlocks Trueplay™, which accounts for the size, construction, and layout of the room where the speakers are placed and adjusts for the best possible sound.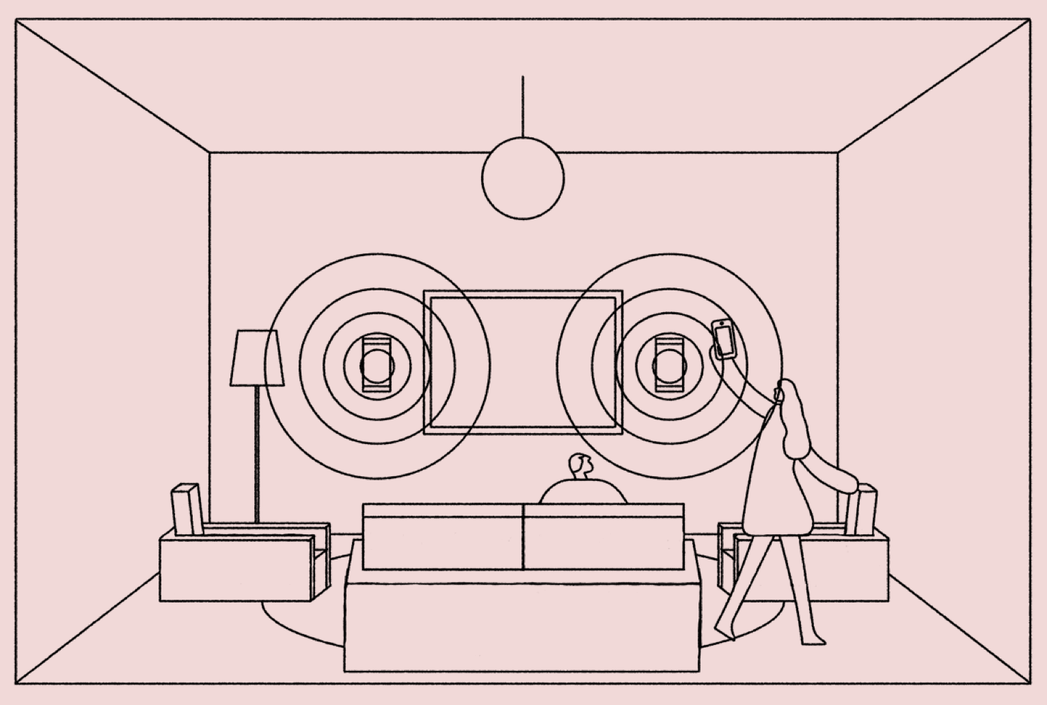 Dimensions –
W x H x D
199.9 x 298.7 x 90 mm.
Dimensions – Cut Out
W x H
176mm x 273mm.
Weight
2.095 kg per speaker.
FAQ
Sonos In-Wall Speakers FAQ
What does it mean that these speakers are optimised for Sonos Amp?
When these speakers are connected to Sonos Amp, Amp will automatically detect them, and automatically adjust the sound to be best for that speaker. This is only possible because we designed the speakers from the ground up with Sonance. This also means the indoor models (In-Wall and In-Ceiling) are the only passive speakers to support Sonos's Trueplay tuning, which tunes the system to the room environment.
Will all three speakers support Trueplay?
No, only the In-Wall and In-Ceiling speakers will support Trueplay. The Outdoor speakers will not, since the outdoor environment is not favourable to Trueplay.
How many pairs of speakers can be installed together on a single Sonos Amp?
The Sonos Amp has been designed to power up to three pairs of Sonos Architectural speakers on a single Sonos Amp.
Can I use these speakers with amplifiers other than Sonos Amp?
The Sonos Architectural speakers will work with most amplifiers. However, you will not be able to take advantage of the TruePlay room-tuning capabilities with any amplifier other than Sonos Amp.
Can Sonos Architectural speakers be installed outdoors?
Only the Sonos Outdoor by Sonance model is rated for outdoor use. The In-Wall and In-Celling models are not rated for outdoor use and should only be installed indoors.
I have existing in-ceiling/in-wall speakers. Will these speakers be able to replace my existing speakers?
The Sonos In-Ceiling by Sonance speakers use a cut-out hole that is 8 1/4″ in diameter. If your existing hole is that size (or smaller), the Sonos speakers will fit but may require a small amount of drywall to be removed (if the hole is smaller than 8 1/4″). The Sonos In-Wall by Sonance speaker cut-out dimension are 7" x 10 3/4″; if your opening is the same size or smaller, the same rules apply. If your opening is larger than these holes, the speakers will not fit, and drywall work will be required to patch and recut a hole to fit your Sonos Architectural speakers.
What type of wire should be used to connect my speakers to Sonos Amp?
We recommend using wire that is 16 ga or larger. For the in-wall and in-ceiling speakers, we recommend using wire rated to be buried inside walls and ceilings. For the outdoor speakers, we recommend using wire that is rated for outdoor use.
Where should my in-wall speakers be installed?
If you are using the in-wall speakers to replicate sound from your TV, the speakers should be installed a few inches away from the right and left edges of the television, with the tweeter of the speaker installed as close to ear level (from the seating position) as possible. If you are using the in-wall speakers as distributed audio speakers and not flanking a television, we recommend placing them in a location that will provide the best coverage for the room.
Still Looking?
More Similar Speakers